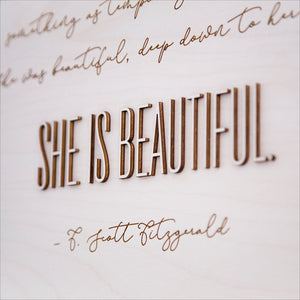 Have your own idea
for a gift?
I can make it come true...
Let's co-create
something beautiful
From recipes to letters, I can take handwriting from fragile, faded paper and preserve and transform it into something beautiful that will last several lifetimes. While I do use many tools, this type of work is done just as it was originally, by hand. I take great pride in the amount of time and care I put into helping you create something special and turn it into something priceless. 
Let's Do This!
Ready to turn your idea into reality?
Fill the form below with as much information and details as possible and I will get back to you within 3-5 business days via email with more information.

(Due to the limited availability of custom orders, order complexity will be taken into consideration during busy times.)
Custom orders are referred to orders when you bring me an idea or concept to design from scratch. You have a vision and we collaborate together to bring it to life.
Personalized items are all my other offerings on this website. You can shop items that have been already designed and I'll add your name, recipe or special text to the pre-designed piece.
As custom orders are more time intensive from start to finish, I only accept a limited number of orders and only at certain times of the year. Please use the contact form above and include as much detail as possible. I will contact you via email within 3-5 business days to discuss your request. I will not be able to respond to custom inquires through any other channels.
If you decide to proceed with the order, a custom listing will be made to complete the payment process.
We can always use a font for your recipe or special note and add a signature below. Signatures have been used from greeting cards, mortgage papers, old farm gas receipts and personal cheques so there may be a way to find one.
Yes! If you have a note that is missing a signature, I can add the signature from another note you provide.
It depends! It usually takes between 2-4 weeks. However, during the the peak season (Oct - Dec) it could take between 4-6 weeks so please order early if you need it for Christmas.
They made it and are better than I could have ever imagined 🖤 Thank you!

Genn
My parcel came - oh my gosh Terri - you made my heart sing!!! These are treasures for my family - thank you so very much ! I hope you know that what you do is do special and meaningful 🖤

Cyndee
Terri, I can't thank you enough! I L🖤VE the ornaments. So sentimental and a treasure they will cherish forever! Thank you!

Morrie