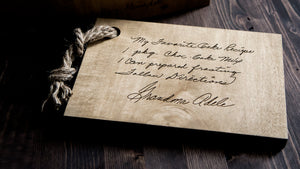 those secret
family recipes
Commemorate your precious memories
Do you have long-forgotten handwritten letters from a loved one, family favourite recipes or a piece of your children's artwork tucked away for safe keeping? What about a text message or voicemail that you will never delete? Having details from those pieces transformed into modern art or home décor has never been easier.

Capture the memory by having it deep etched or engraved on wood, glass, stone, and ceramic to create a one-of-a-kind work of art that can be enjoyed by you and your family for years to come.

What makes these pieces extraordinary is all handwritten artwork is recreated by hand, allowing for details, quirks, and handwriting imperfections to come through capturing the authenticity of the original piece.

Browse through the possibilities – they are endless!  Or if you have an idea of your own, let's talk and co-create something meaningful!
The story of Handwriting
Like a photograph, handwriting captures so much emotion and preserves bits of history. When I recreate a recipe by hand, I am sure to include scribbles and imperfections. My clients love a crossed-out ingredient, a notation in the margins or a misspelt word because it is as authentic as the person who originally wrote it.
Welcome!
I am so happy our paths have crossed! You will find every piece I create has a beautiful story, special meaning or unforgettable memory tucked deep inside. Most of my work is custom or made to order to ensure my time is spent making keepsakes that will last a lifetime. I am excited about connecting with you and the endless possibilities of co-creating something amazing and meaningful.
Thank you so much.. it's a gift for my mom as we recently lost grandma. She's going to love it. Brought some tears.

Britt
Picked up!! They look amazing!!! Thanks so much!! I can't wait to give the gifts!!! I'm sure this won't be the last you hear of me!! I'm now brainstorming future Christmas gifts.

Courtney
Terri is one of a kind. I can throw any idea at her and she brings it to life! Her work is authentic and the pieces I have I will cherish forever! I will keep adding to my memories through her as they are pieces created with love and it shows in her work! She's the best!

Allison
It's jaw dropping. Thank you. There will be joyous tears.... 🖤

Amber
They made it and are better than I could have ever imagined 🖤 Thank you!

Genn